Title:

Blood Red Road
Author:

Moira Young
Genre:

YA Dystopian
Publisher:

Margaret K. McElderry Books
Length:

459 pages
Original Publishing Date: June 7th, 2011
Series:

Dust Lands #1
Rating:
2 stars
I was so disappointed by Blood Red Road!
I'll give you two reasons that I believe contributed to it.
1) The audiobook sucked. No offense to the narrator, but I wasn't really digging the way that she read. There was a lot of action and yelling in this book. Normally, I don't really notice the way that narrators portray yelling, but this narrator did a "whisper-yell" that was really bothersome to me. If we're in a high pressure moment, I'm not down with the narrator whispering "Jack" and pretending that it's yelling.
2) I wasn't reading it when it first came out. In 2011, it was a completely different landscape for YA Dystopian fiction. This was the height of our obsession, and I think I might have been more excited if I had read this book back when I wasn't judging dystopian books so tough.
Now, there is little that I see in
Blood Red Road
that I haven't seen a million times before, and I was so disappointed by the lack of originality.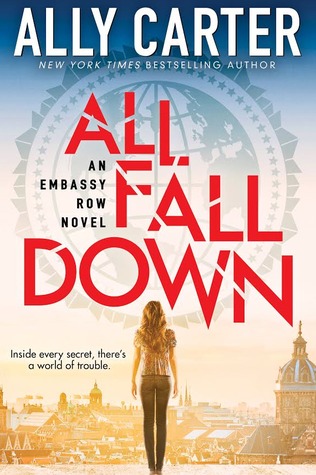 Title:

All Fall Down
Author:

Ally Carter
Genre:

YA Thriller
Publisher:

Scholastic Press
Length:

310 pages
Original Publishing Date: January 20th, 2015
Series:

Embassy Row #1
Rating:
3 stars
I wasn't expecting a whole lot from All Fall Down, which may be why I was pleasantly surprised. Turns out, there's a lot of drama and fun that can take place on a fictional Embassy Row in a fictional foreign country.
This book has a lot of things that I love: quick pacing and a lot of action, awesome world-building, and an awesome psychological thriller aspect that I'm
obsessed
with.
The weaknesses? I was less impressed with Grace than I think I ought to have been. Part of that was because she didn't feel fully developed to me. We just have a boring ol' regular girl with not much characterization and then the situation she was slammed into. So, not a lot to make her complex.
The relationships with the other Embassy kids were definitely a little juvenile, and I can't tell if that's weak writing or if that's the fact that the book was written for a younger group of teens.
Basically, expect the unexpected from this book, and I can't tell you much more than that!