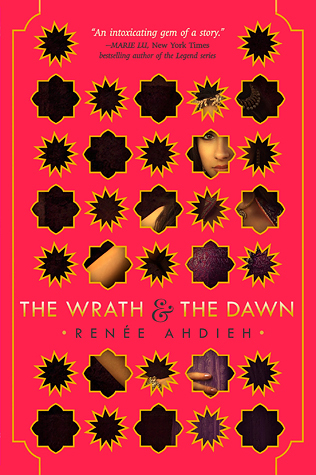 Title:

The Wrath and the Dawn
Author:

Renee Ahdieh
Genre:

Fantasy/Retelling
Publisher:

G.P. Putnam's Sons Books for Young Readers
Length:

388
Original Publishing Date: May 12th, 2015
Series:

The Wrath and the Dawn #1
---
Synopsis from Goodreads:
One Life to One Dawn.

In a land ruled by a murderous boy-king, each dawn brings heartache to a new family. Khalid, the eighteen-year-old Caliph of Khorasan, is a monster. Each night he takes a new bride only to have a silk cord wrapped around her throat come morning. When sixteen-year-old Shahrzad's dearest friend falls victim to Khalid, Shahrzad vows vengeance and volunteers to be his next bride. Shahrzad is determined not only to stay alive, but to end the caliph's reign of terror once and for all.

Night after night, Shahrzad beguiles Khalid, weaving stories that enchant, ensuring her survival, though she knows each dawn could be her last. But something she never expected begins to happen: Khalid is nothing like what she'd imagined him to be. This monster is a boy with a tormented heart. Incredibly, Shahrzad finds herself falling in love. How is this possible? It's an unforgivable betrayal. Still, Shahrzad has come to understand all is not as it seems in this palace of marble and stone. She resolves to uncover whatever secrets lurk and, despite her love, be ready to take Khalid's life as retribution for the many lives he's stolen. Can their love survive this world of stories and secrets?

Inspired by A Thousand and One Nights, The Wrath and the Dawn is a sumptuous and enthralling read from beginning to end.
---
I didn't do any research on this book before reading, so I was a little surprised when I found out it was a retelling of A Thousand and One Nights (or at least, I thought it was). The synopsis says "inspired", and I think that's a better description than "a retelling". It may start with what you know, but it definitely changes as the novel goes along.
I was so pleasantly surprised by this book. I think the best word to describe it is "sumptuous". Read just a little bit and you'll see why. I don't usually care for the overly detailed and "pretty" language, but even I was blown away by how gorgeous Ahdieh's writing was.
Positives:
Unique take on Well-known Tale: I had to read A Thousand and One Nights in school, and when I discovered this was a "retelling", I was a little upset. Their divergence confused me a little at first because I wasn't expecting it, but I ended up really liking where Ahdieh took the story.
Sumptuous Writing: So gorgeous. "Some things exist in our lives for but a brief moment. And we must let them go on to light another sky." Literally, the whole book is like this, and even prettier.
Intricate World-building: I felt ensconced in the world that Ahdieh created. All the descriptions were spot on and I could imagine myself there with the characters.
Negatives:
Confusion about "Retelling" or "Inspired": This is really something that just threw me off for a moment, but I feel compelled to mention it. I was taken back a little when the story changed, since it was following it so closely for a little bit. And then there was the fact that there were magic elements. Given that the story was so realistic and gritty, I wasn't sure if I liked that fantasy aspect. It grew on me, but it definitely was jarring, for me.
A Few Stereotypical Romance Parts: Every once in a while, I felt like the characters seemed a little stereotypically "in love" or fell into that trope of forbidden romance. Like, "I hate him, but I can't help falling in love with him"! Or the love triangle. How many times have we seen that done before? Of course she was engaged to another guy and then ended up falling in love with Khalid. Of course.