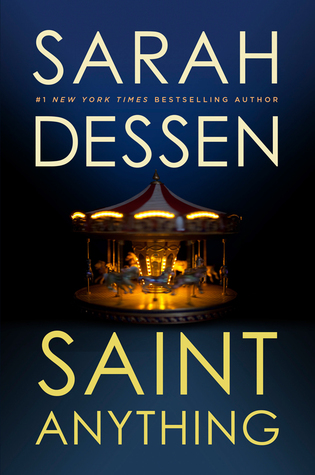 Title:

Saint Anything
Author:

Sarah Dessen
Genre:

YA Contemporary Romance
Publisher:

Viking
Length:

417 pages
Original Publishing Date: May 5th, 2015
Series:

Standalone
---
Synopsis from Goodreads:
Peyton, Sydney's charismatic older brother, has always been the star of the family, receiving the lion's share of their parents' attention and—lately—concern. When Peyton's increasingly reckless behavior culminates in an accident, a drunk driving conviction, and a jail sentence, Sydney is cast adrift, searching for her place in the family and the world. When everyone else is so worried about Peyton, is she the only one concerned about the victim of the accident?

Enter the Chathams, a warm, chaotic family who run a pizza parlor, play bluegrass on weekends, and pitch in to care for their mother, who has multiple sclerosis. Here Sydney experiences unquestioning acceptance. And here she meets Mac, gentle, watchful, and protective, who makes Sydney feel seen, really seen, for the first time.

The uber-popular Sarah Dessen explores her signature themes of family, self-discovery, and change in her twelfth novel, sure to delight her legions of fans.
---
I've read a couple Sarah Dessen novels before and they've always been cute and fun, but never mind-blowing for me. They all seem to run together in a mix of young love, slightly forgettable heroines and cute boys.
This was not the case with
Saint Anything
. I can't tell if it's because I'm a bit older now and they are connecting with me in a different way, or if Sarah Dessen just really killed it with this novel. Maybe both?
Positives:
The opposite of instalove: I was actually getting antsy with the lack of romance, believe it or not! But I liked it. I like the waiting and the creation of friendship before romantic attraction. It creates a complexity to the relationship that you wouldn't otherwise get, and in this case it teaches you a lot more about the characters.
The adorable Chathams: They are great. They are all quirky and fun and complex and beautiful. That's all.
Intriguing family dynamics: Intriguing not only with the fun Chathams, as I've mentioned, but also for Sydney's family, dealing with the aftermath of Peyton's accident.
Negatives:
Boring & bland characters: I think Sydney could have been explored more. We get a lot of her feelings about Peyton, but not much development of her as a character otherwise. I know to a certain extent, this is what Dessen intended, but I really couldn't connect with Syndey because there was literally nothing else going on there. Also Mac was great, but he was literally perfect. WHERE ARE HIS FLAWS??