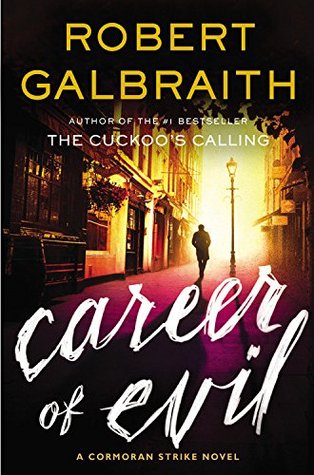 Title:

Career of Evil
Author:

Robert Galbraith
Genre:

Mystery/Crime
Publisher:

Mulholland Books
Length:

489 pages
Original Publishing Date: October 20th, 2015
Series:

Cormoran Strike #3
---
Synopsis from Goodreads:
When a mysterious package is delivered to Robin Ellacott, she is horrified to discover that it contains a woman's severed leg.





Her boss, private detective Cormoran Strike, is less surprised but no less alarmed. There are four people from his past who he thinks could be responsible--and Strike knows that any one of them is capable of sustained and unspeakable brutality.





With the police focusing on the one suspect Strike is increasingly sure is not the perpetrator, he and Robin take matters into their own hands, and delve into the dark and twisted worlds of the other three men. But as more horrendous acts occur, time is running out for the two of them...





Career of Evil

is the third in the highly acclaimed series featuring private detective Cormoran Strike and his assistant Robin Ellacott. A fiendishly clever mystery with unexpected twists around every corner, it is also a gripping story of a man and a woman at a crossroads in their personal and professional lives.
---
Yay, the next Cormoran Strike book!
But I gotta bone to pick with JK Rowling. It's about how she creates her mysteries and reveals the endings. Have I told you all about this?
Writing mysteries are hard. It's a delicate balance between surprising the reader at the end and dropping enough hints that the reader doesn't feel completely blindsided. I like to feel surprised at the end (eg. not have guessed who the killer was) but be able to track all the clues along the way that led up to the unveiling of the killer.
Rowling makes it
literally impossible
(this is not a metaphorical use of the word
literally
) to find out the answer to the mystery on your own. And that makes me mad. For me, the mystery genre needs to include the chance (even a 0.1% chance) that you can figure out the mystery on your own with the clues that the author provides.
When Rowling gives her reveal, she tells you the way that Cormoran finally solves it: by finally including information that he had that the reader is never privy to. Maybe if Rowling had snuck that piece of information in, there would have been the slightest chance that I could have figured it out. Probably not, but maybe!! But no. And that's what really pisses me off when I read this series.
Positives:
Character development: Three cheers for Robin's backstory! I mean, it wasn't really puppies and roses. What I mean is that it helped grow Robin as a person and I discovered a lot more about her that made me really admire her tenacity and what she went through to get to where she is today. Also, more from Cormoran! Always good to get to know more about our main guy.
Writing: As always, Rowling has a masterful grasp of writing. She is purposeful in developing characters and plot, and her sense of humor shows through as well.
Negatives:
Pacing: Rowling's writing is normally spot on, but in Career of Evil I had a minor problem with the pacing. I've never had a problem with this before, but every once in a while this book would start to drag a little.
The Mystery! I don't mean the killer himself and who it is, but the clues and the big reveal as discussed in my earlier rant.
The ending: Ugh, why did Robin and Cormoran's relationships turn into a soap opera? And the cliffhanger was a little ridiculous.
Rating: 3/5