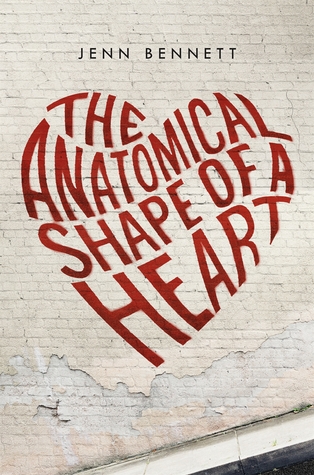 Title:

The Anatomical Shape of a Heart
Author:

Jenn Bennett
Genre:

YA Contemporary Romance
Publisher:

Feiwel & Friends
Length:

304 pages
Original Publishing Date: November 3rd, 2015
Series:

Standalone
---
Synopsis from Goodreads:
Artist Beatrix Adams knows exactly how she's spending the summer before her senior year. Determined to follow in Leonardo da Vinci's footsteps, she's ready to tackle the one thing that will give her an advantage in a museum-sponsored scholarship contest: drawing actual cadavers. But when she tries to sneak her way into the hospital's Willed Body program and misses the last metro train home, she meets a boy who turns her summer plans upside down.





Jack is charming, wildly attractive . . . and possibly one of San Francisco's most notorious graffiti artists. On midnight buses and city rooftops, Beatrix begins to see who Jack really is—and tries to uncover what he's hiding that leaves him so wounded. But will these secrets come back to haunt him? Or will the skeletons in Beatrix's own family's closet tear them apart?
---
Yay! There is a lot to like about The Anatomical Shape of a Heart. Most notably, Jack and his tattoos, as I will go into so much more detail about. Basically, I ship Bex and Jack really, really hard. They are super great together. And all the quirky fun elements that I'm pretty sure Bennett just threw in there because she thought, "Why not include lasagna"? Also just, yay Bex's family. Yay to her mom, yay to her brother, yay to their house. Bennett was great about really creating well-rounded minor characters who have depth and wit. Cause everyone has wit in this book! I wish I was this witty on a day-to-day basis.
Positives:
Wit and banter: I love the fun dialogue between characters! Bennett is really good at including witty repartee without it feeling too stiff and false. I especially loved Bex's family and how they interacted with each other!
Swooniness: So, yes. Jack and Bex are perfect. End of story.
Cool premise: I dunno! I have never really encountered a story with a girl who likes to draw corpses and a boy who draws graffiti. I liked all the cool aspects that Bennett included in the premise, and the inclusion of some thought-provoking real stuff too.
Pacing: Yes, I know! I either love it or I hate it. But this book never felt too long or too boring. It read so easily and quickly that I was surprised when it was over?
Ending: Perfect!
Negatives:
Instalove: Okay, minor nitpick here? The instant adoration that Jack and Bex had for each other was a little silly. It wasn't as bad as your classic example (*cough* Twilight *cough*) but it was there. And a little ridiculous.
Characters bordering on stereotype: Yes, sometimes Jack was too hipster for his own good. I mean, come on... prayer beads and Buddhism? And Bex is a little much at the beginning in her "Feel sorry for me, I don't fit in anywhere and people call me Morticia Addams" shtick.
Rating: 4/5