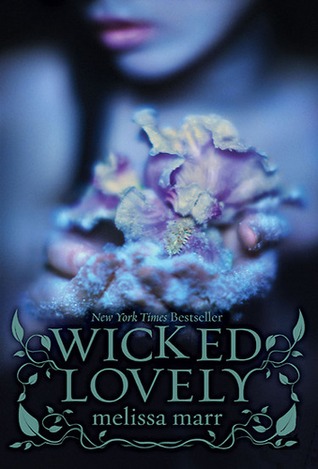 Title:
Wicked Lovely
Author:
Melissa Marr
Genre:

YA

Fantasy
Publisher:

HarperTeen
Length:

328 pages
Original Publishing Date: June 12

th, 2007
Series:

Wicked

Lovely #1
Where I got it:

Audiobook from the e-

library
Links:
Goodreads
Amazon
Author's Website
---
Synopsis from Goodreads:
Rule #3: Don't stare at invisible faeries.
Aislinn has always seen faeries. Powerful and dangerous, they walk hidden in the mortal world. Aislinn fears their cruelty - especially if they learn of her Sight - and wishes she were as blind to their presence as other teens.

Rule #2: Don't speak to invisible faeries.
Now faeries are stalking her. One of them, Keenan, who is equal parts terrifying and alluring, is trying to talk to her, asking questions Aislinn is afraid to answer.

Rule #1: Don't ever attract their attention.
But it's too late. Keenan is the Summer King, who has sought his queen for nine centuries. Without her, summer itself will perish. He is determined that Aislinn will become the Summer Queen at any cost — regardless of her plans or desires.

Suddenly none of the rules that have kept Aislinn safe are working anymore, and everything is on the line: her freedom; her best friend, Seth; her life; everything.

Faery intrigue, mortal love, and the clash of ancient rules and modern expectations swirl together in Melissa Marr's stunning twenty-first-century faery tale.
---

Main characters: 2.5/5
In light of the fact that I had just finished the spectacularly bad
Wings
, I was more inclined to like
Wicked Lovely
than if not, I believe.
Aislinn was a
middle of the road
main character. She wasn't intensely complex or deep, but she didn't constantly get on my nerves either. Ultimately, she was a little
bland
for my tastes and I was looking for more from her.

Secondary characters: 2/5
Keenan and Seth were
okay male romance interests
, however the fact that there was a love triangle was a little disappointing.
Keenan was more developed overall, but Seth was mediocre
. I didn't see a lot to his character beyond his infatuation with Aislinn.
Beira was a sad villain
- she was Disney-esque in her pure evil and malicious intents in a way that was ridiculous and over the top. Donia was the only other character who had merit overall and who I felt sympathy and empathy for.

Writing style: 2/5
The writing style was
generally entertaining
, but was nothing particularly excited and nothing that lent itself to any exclamation here. The
pacing was okay
for the most part, but the plot didn't exactly lend itself to a fast moving story.
Plot: 2.5/5
Okay, such a
cool set up and descriptions of the faeries
, but I was
disappointed by the overall shape of the plot
. The whole thing was basically a
set up for Aislinn making a decision and there wasn't a whole lot of action and excitement through the whole thing.

Ending: 2.5/5
I was
surprisingly happy with Aislinn's final decision
and I felt like it was a breath of fresh air. Obviously, I was unhappy that the entire conflict revolved around this decision, and thus the
ending lacked the intensity and the action that I was looking for
, but yay Aislinn.



Best scene:

The little twist toward the end- ew!
Reminded Me Of:

A better version of Wings
Positives:

Interesting take on faeries, Aislinn's final decision, mostly entertaining



Negatives:

Disappointing and undeveloped characters, slow pacing, sad plot, lack of action and intensity overall



Cover:

A little simplistic for no reason, but pretty enough



Verdict:

Better than some of its faerie predecessors, but only valuable for its ability to pass the time and keep me relatively entertained.

Rating: 4.6 / 10 (2 stars)
Your Thoughts: Have you read it? What did you think? If you haven't, will you be adding it to your TBR list? Let me know!