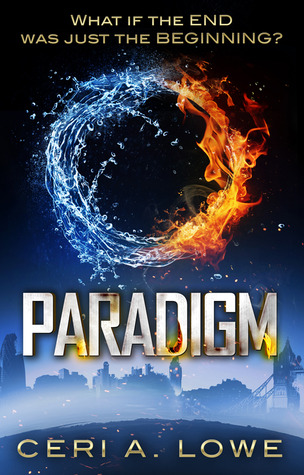 Title: Paradigm
Author: Ceri A. Lowe
Genre: YA Dystopian
Publisher: Bookouture
Length: 382
Original Publishing Date: June 13th, 2014
Series: Paradigm #1
Where I got it: Net Galley
Links: Goodreads Amazon Author's Website
Synopsis from Goodreads:
What if the end of the world was just the beginning?

Alice Davenport awakens from a fever to find her mother gone and the city she lives in ravaged by storms – with few survivors.

When Alice is finally rescued, she is taken to a huge underground bunker owned by the mysterious Paradigm Industries. As the storms worsen, the hatches close.

87 years later, amidst the ruins of London, the survivors of the Storms have reinvented society. The Model maintains a perfect balance – with inhabitants routinely frozen until they are needed by the Industry.

Fifteen-year-old Carter Warren knows his time has come. Awoken from the catacombs as a contender for the role of Controller General, it is his destiny to succeed – where his parents failed.

But Carter soon discovers that the world has changed, in ways that make him begin to question everything that he believes in. As Carter is forced to fight for those he loves and even for his life, it seems that the key to the future lies in the secrets of the past...

Main characters: 3.5/5
Carter was an arrogant little jerk, and to be honest, that opinion didn't change much throughout the course of the novel. I get it, and I get why he was that way, but it's hard to connect to a character who alienates himself from others like Carter does. I liked that his development was slow and that we could see some things clicking in his mind. I loved reading about Alice. She was gutsy, gritty and curious and throughout the novel we watched her grow into a young woman who knew what she wanted and how she wanted to get there. Both main characters played on my emotions as I learned more about their motivations and why they wanted what they wanted, but I also contrasted this with the reality of their dystopian society. I loved how they weren't purely rebellious, in fact, Carter is vying to be the next Controller General- the picture perfect member of society. Although I enjoyed reading about Alice (and Carter, for the most part), I felt that they lacked something. I wasn't completely sold on them, and I don't know why exactly. I could relate, but I wasn't completely drawn into them and their stories.

Secondary characters: 2/5
There weren't very many fully developed secondary characters. I just got a few glimpses of Iseult and Ariel. We never had any interactions with Lucia. I had some fleeting ideas of what Isabella was all about but not enough to feel like I understood her deeply as a character. Alice's timeline was no better. The reader sees Alice's memories of her mother and grandfather, but none of her own. Her interactions with Jonah were better and I liked the contrast in their relationship, their motivations and their personalities, but Filip was like a rock- absolutely nothing there. The one secondary character that I was curious about and intrigued with was Lily.

Writing style: 4/5
Lowe's writing was surprisingly lyrical and beautiful for a dystopian novel. She has a way of describing even the most mundane things in gorgeous ways. However, this beautiful writing did not translate into great pacing. Some parts of the book moved incredibly slowly and it was hard to pay attention. Part of this is a lack of plot tension, but most of it is a lack of urgency in the writing itself. I really liked the dual narratives so you could see the time before the Community and during the Community. We could see why the dystopian society was created and therefore we are sympathetic, but then we also see what it has become and see the need for change. I loved that aspect of the dual perspectives.
Plot: 3/5
What a cool concept! I really loved the details put into constructing the world and the precision with which it was constructed. I could tell that this world was sinister but finding out how and why was a mystery that was incredibly well crafted. In the middle, some of the background details started to flow pretty fast and I honestly got confused in the names and timeline and events that happened while Carter was frozen. That part of the plot could have been simplified and presented in a simpler manner. I also felt like not enough time was spent developing a worthwhile conflict and fleshing out characters that I could connect to. Both of those were sometimes lacking.

Ending: 3.5/5
I'll admit that I saw the foreshadowing for a couple events leading up to the ending but there was definitely still a few surprises that I enjoyed. It was a solid ending to the first book in a series. Some of the initial conflict was resolved, more conflict was created and that conflict hit the next scale, and the novel ended with the perfect line that insinuated what was to come, even if it didn't come as a surprise.

Best scene: Jonah swimming out to the boat- very dramatic
Reminded Me Of: Hunger Games meets Divergent (super stereotypical choices to compare a dystopian novel to, I know)
Positives: Unique concept, some cool plot twists, writing style, ending

Negatives: Pacing, confusion, secondary characters, jumbled plot

Cover: Reminds me of Divergent. I like the London skyline in the background but the fire/water circle could have been portrayed differently

Verdict: A unique concept and gorgeous writing style doesn't save this dystopian novel with some glaring faults

Rating: 6.4 / 10 (3 stars)
Your Thoughts: Have you read it? What did you think? If you haven't, will you be adding it to your TBR list? Let me know!