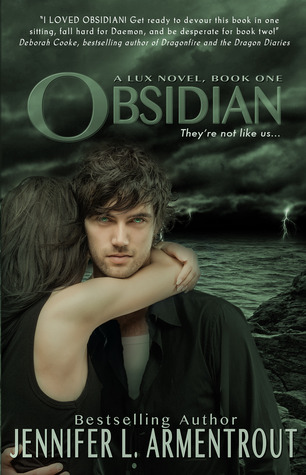 Title: Obsidian
Author: Jennifer Armentrout
Genre: YA Paranormal
Publisher: Entangled Teen
Length: 335 pages
Original Publishing Date: November 23rd, 2011
Series: Lux #1
Where I got it: E-library
Links: Goodreads Amazon Author's Website
Synopsis from Goodreads:
Starting over sucks.

When we moved to West Virginia right before my senior year, I'd pretty much resigned myself to thick accents, dodgy internet access, and a whole lot of boring... until I spotted my hot neighbor, with his looming height and eerie green eyes. Things were looking up.

And then he opened his mouth.

Daemon is infuriating. Arrogant. Stab-worthy. We do not get along. At all. But when a stranger attacks me and Daemon literally freezes time with a wave of his hand, well, something... unexpected happens.

The hot alien living next door marks me.

You heard me. Alien. Turns out Daemon and his sister have a galaxy of enemies wanting to steal their abilities, and Daemon's touch has me lit up like the Vegas Strip. The only way I'm getting out of this alive is by sticking close to Daemon until my alien mojo fades.

If I don't kill him first, that is.

Main characters: 1.5/5
Katy was a little lackluster. One thing I noticed was that Armentrout doesn't give a lot of physical descriptions of her characters, so I have no idea what they look like. Pair that with Katy seeming to lack a personality, and she was too bland for my taste. Her hobbies were unique- gardening and book blogging (woo!)- but besides her interactions with her mom, I had no idea who Katy was, how she interacted with others, and what motivated her. Daemon was similar. It was hard to get a read on his actual personality other than mysterious and brooding.

Secondary characters: 1/5
What secondary characters? There was a very small cast of secondary characters and they were very poorly characterized. I really couldn't tell you much about the secondary cast. The only one that seemed like she had any sort of a personality was Dee. I liked Dee because she was sassy and empathetic, and I had a good idea of who her character was.

Writing style: 2.5/5
Armentrout's writing style was nothing special, but it kept the story moving forward. The dialogue was realistic, and there was a good mix of description and action. Unfortunately, there's not a whole lot of other positives on the writing style because it seemed very standard: something that anyone could have written with nothing especially noteworthy.
Plot: 2/5
The Katy/Daemon plot reminded me of
Twilight
. You know: the mysterious siblings who are social outcasts, the new girl in town who is befriended by the sister, the asshole brother who is brooding and seems to hate the new girl until they actually end up falling in love? It was actually pretty creepy how similar the plotline was. The one thing that I appreciated is that there wasn't instant love. It actually took a really long time to develop, even though the insta-attraction was definitely there.

Ending: 3/5
I liked that the ending was focused on Katy and Daemon's relationship. Katy actually grows a backbone for once and it sets the scene for more chemistry and conflict between the two. It wasn't a huge cliffhanger, but unfortunately it also didn't leave me
needing
to read the next sequel.

Best scene: The first kiss scene
Reminded Me Of: Twilight plus The Host
Positives: The lack of instalove, Katy's unique hobbies, the writing style that pushed the plot forward

Negatives: Completely flat and undeveloped characters, unoriginal plot,

Cover: I'm not a fan. I don't like the font and the fact that Katy's face wasn't showing- only Daemon's. The book is about Katy and Daemon, not just Daemon.

Verdict: Obsidian just didn't do it for me. The characterization was seriously lacking and the plot was wholly unoriginal. I probably won't be reading the sequel.

Rating: 4.0 / 10 (2 stars)
Your Thoughts: Have you read it? What did you think? If you haven't, will you be adding it to your TBR list? Let me know!