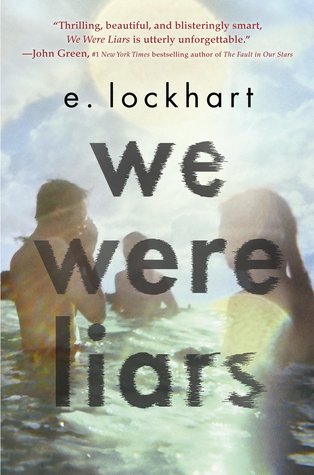 Title:

We Were Liars
Author:

E. Lockhart
Genre:

YA Suspense
Publisher:

Delacorte Press
Length:

240 pages
Original Publishing Date: January 1st, 2014
Series:

Standalone
Where I got it:

E-library
Links:
Goodreads
Amazon
Author's Website
---
Synopsis from Goodreads:
A beautiful and distinguished family.
A private island.
A brilliant, damaged girl; a passionate, political boy.
A group of four friends—the Liars—whose friendship turns destructive.
A revolution. An accident. A secret.
Lies upon lies.
True love.
The truth.

We Were Liars is a modern, sophisticated suspense novel from National Book Award finalist and Printz Award honoree E. Lockhart.

Read it.
And if anyone asks you how it ends, just LIE.
---
You know that feeling of when a song gets stuck in your head and no matter what you do, you can't seem to get it out of your head? For me that usually only happens with songs that I can't stand, but once in a while, it happens with a great song, and then I never want to get it out of my head. Pretty much that exact thing happened after I read E. Lockart's We Were Liars.
I read We Were Liars basically in one sitting, and then it was all I could think about for the next 24 hours. This intelligently crafted story is about a girl returning to her family's island two years after she suffered an accident that caused her to lose some of her memory. But it's about so much more than that. All is revealed throughout the book, and I don't want to spoil it for any of you because you have to read this amazing book.
One criticism that you hear a lot from casual YA readers is that YA isn't "literary enough" (which is ridiculous), but there is no way anyone can criticize We Were Liars for not being literary. It definitely reminded me of novels that I've read in my college-level English courses, but it was entirely approachable and fascinating. I could not stop thinking about this novel, its characters, and how it ended. I questioned everything I had thought about the book up until the reveal, and I wanted to talk to everyone about it.
We Were Liars is an intricate suspense novel, thriller, and slice-of-life drama all packed into a wonderfully readable YA novel. Lockhart captures the essence of being a teenager so perfectly: everything is dramatic and life-threatening to a teenager until it really does become dramatic and life-threatening. I could keep going on and on about how amazing this book is, but you should just really do yourselves the favor and read it.